You're Not Getting The Job Because You're The 'Real Life' Sheldon Cooper
Are you ready to make some real money moves?
If you've ever watched The Big Bang Theory, you'll notice that although he is very good at his job, Sheldon is extremely good at indicating that he is the best at everything. Unfortunately people like Sheldon struggle in real life. In a job interview, Sheldon would just talk about how great he is and what he deserves. His tone deaf approach would automatically put him in the rejection pile.
Here's how to kill your inner Sheldon in interviews:
Source: GIPHY
Show your future employer how you can solve their problems
During an interview, show the hiring manager that you can empathize with the issues that their company juggles on a daily basis. As you prepare for your interview, think about the problems in your future manager's role that stops them from being more successful. Could you solve their problems through your existing experience?
For example, a potential employer could struggle with getting employees to be more accepting of new changes in their role. You could secure this job if you can show how you've dealt with resistance like this in the past. Think outside of the box when considering your examples--it could be something as simple as talking about how you convinced other students at your university to sign up to an important cause.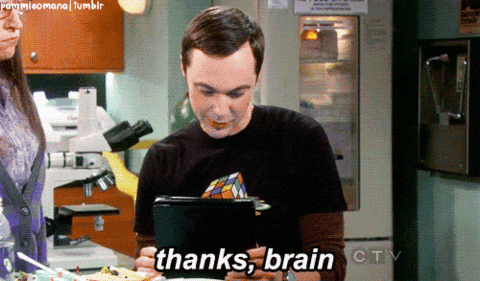 Source: GIPHY
Own your body language…and theirs
Succeeding in an interview goes beyond listening to a hiring manager's words. Their body language or tone can also give you clues about whether they feel that you are right for the job. Work on your own body language before the interview so that you can learn to project yourself as a confident professional. You could practice interview responses with a friend so that you get used to speaking naturally and confidently.
If you sense that a hiring manager is nervous about giving you a job, then ask questions related to his/her ideal candidate. Then address any doubts about your fit for the role by tailoring your responses to remind the interviewer why you are the perfect candidate.
Hold off on negotiating salary
It's easy to focus on the money during an interview. If the topic of salary isn't brought up during an interview, then don't bring it up yourself. If salary is mentioned, do not go too deep into discussing wages. Indicate that you are happy to discuss compensation at a later stage if you are successful in getting the role.
Instead, move the conversation away from salary expectations and towards why you would cherish getting this role. Do you love the company culture or its values? Are you passionate about the work? You could also discuss other aspects of a role that you like such as flexible working times or training courses which can be as valuable.
What are some of your best tips on getting the job you desire? Leave a comment below or chat with us on social via Twitter, Instagram, or Facebook.