Getting Ahead When Your Family Isn't Wealthy
Key Takeaways
Some people have the privilege of generational wealth, while others must work to break generational financial curses.
Saving between $250 and $750 is a great first step in building your emergency savings.
You may have to sacrifice comfort and timing on the road to financial freedom.
Are you ready to make some real money moves?
​Not everyone transitions into adulthood with a family who can be a financial backup option. Instead of generational wealth, many have to rely on trial and error when making financial decisions, breaking generational curses, and working to achieve financial freedom. While the journey to get your bank account where you want it can be a tough one, you can still achieve your financial goals and build a solid financial foundation in due time.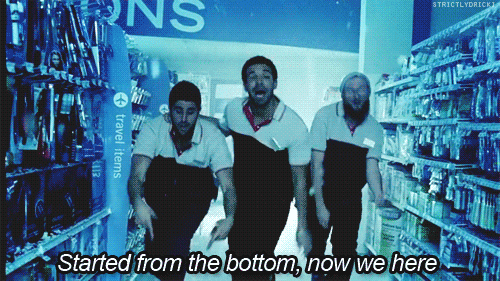 Source: Giphy
With so many conversations about the growing wealth gaps in this country, it can feel overwhelming to think about the opportunities that may be lost because you weren't born into money. Here are three personal finance tips to help you build a new money legacy regardless of your family's financial background.
​
Build an emergency savings
Having money to fall back on creates a sense of financial security.
Those who come from generational wealth can often go to their parents or grandparents in times of financial need. For example, the family may cover financial emergencies or make major purchases for their child. However, if you can't depend on others for financial backup, you will need to create a solid emergency savings fund for yourself.

Start by setting a small goal to cover one week's worth of expenses and build from there. After all, a little goes a long way. Studies have found that having between $250 - $750 in savings can keep most Americans faced with an emergency from falling behind on bills. And although you are starting small, your emergency savings will continue to increase over time. The key is to be patient yet strategic.
After saving up one week's worth of expenses, the next step would be to save at least one full month's worth of costs and then continue to build up your savings from there. A general rule of thumb is to have at least 3-6 months of living expenses saved up. Using a budget to help you track exactly how much you need to set aside each month to reach your goals may be helpful.
Minimize your monthly expenses
Many of us know of someone who has parents who have or currently help pay their rent, college tuition, or other bills in their household, even as an adult. However, having that privilege is not available to everyone. If you do not have that privilege, keeping your monthly expenses to a minimum will help you save the excess funds to pay off debts or create a financial cushion.
Housing is usually a person's biggest expense. Therefore, you want to pay as little as possible in this area as you're working on building up your savings. If your home life is emotionally and financially stable, consider living with your family for a year or more so that you can pay less rent and stack up. Living at home and potentially following house rules as an adult can be challenging. However, it can be a sacrifice that can set you up for financial independence in the long run.
To put things into perspective, let's say your income can handle a $1,200 rent payment. (No more than 30% of your monthly income should go towards rent.) Instead of paying $1,200 to live by yourself, you could contribute $400 towards bills if you move back in with your parents. The $800 you will be saving per month would equate to almost $10,000 at the end of year one and could go towards saving and investing.
If living with family is not possible, an alternative is to live with a roommate or roommates.
Living with others or under someone else's rules as an adult can be a huge sacrifice of comfort. However, to make things better, know your savings goal and create a timeline to track your plan to move out on your own. Having an end date in mind can be the motivation to help you push through when things get hard.
Build a supportive professional network
The saying "it's not what you know, but who you know" has long proven to be true. Therefore, although you may not have direct access to some professional networks, you do still have the ability to build your network and form valuable relationships. Meaning, your uncle may not be able to hook you up with a dream internship. Still, there are other ways that you can create a reliable network for yourself by finding experienced advocates who see your potential and know how to get you to the next level in your career. These advocates can be mentors, professors, and former bosses.
In addition, don't forget to network across. While you are enrolled in college, a training program, or working, you are creating meaningful connections with peers who will be moving up in the world. Hang close to these authentic connections and create a space where you all help each other. Then, when you make it to the top, pay it forward and make sure the kid who is just like you gets a chance to move forward in their life.
It can be overwhelming to feel like you have to figure out how to create a solid financial foundation on your own. But remember, you have made it this far. You have the power to ensure your financial future is bright and build generational wealth.