4 Celebrities Who Dealt With Student Loans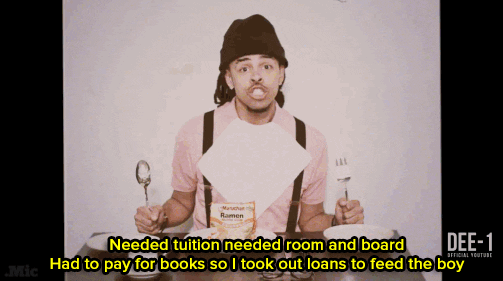 Key Takeaways
Some of your favorite celebrities also owe Sallie Mae.
Rapper Dee-1 wrote his viral single "Sallie Mae Back" as a celebration of paying of his student loans.
Numerous celebrities, including J Cole and Emma Watson, have attended college before or after becoming famous.
Are you ready to make some real money moves?
If you are one of the 42.9 million Americans who owe some portion of the $1.57 trillion in national student loan debt, you already know that student loans are no joke and can be stressful. With over half of Americans already living paycheck-to-paycheck, it doesn't help that those with student loans are paying an estimated $460 per month towards their student loan payments. Attending a college or university in pursuit of a bachelor, master, or doctoral degree will cost you, even if you are currently or a future celebrity.
Some of your favorite celebrities and influencers have or are currently in college. While stars like Emma Watson (Brown University) and Yara Shahidi (Harvard University) attend college while still active in their acting career, other now-famous celebrities attended college before the fame and money.
Here are four music artists who used financial aid to pursue their desired degree program and dealt with student loans before making it big.
J Cole
Rapper J. Cole is a magna cum laude graduate from St. John's University. In 2007, the same year he graduated from the university, he dropped his debut mixtape, The Come Up.
Editorial credit: Sterling Munksgard / Shutterstock.com
Even with his level of stardom, J Cole is known for living a very private life. However, as one of this generation's most influential lyricists, J Cole often tells his past and current life story through his music. For example, on his track "Cole World" from his 2011 debut album Cole World: The Sideline Story, he raps, "If I could win, maybe then I could pay Sallie Mae back."
In an interview with DJBooth.com in 2009, J.Cole was asked if he's paid off his student loans. He replied, "Nope, not yet. I can, but I'm a stubborn person, man."
Megan Thee Stallion ​
Megan Thee Stallion graduated from Texas Southern University in December 2021, earning a bachelor's degree in health administration. Although she had to take occasional breaks due to her increased busy schedule on her path to becoming one of the hottest female rappers in the game, Megan was determined to get her college degree.
Editorial credit: lev radin / Shutterstock.com
With hit-after-hit and sold-out shows, it is safe to say her financial situation has changed since starting college and she is no longer stressed about student loans and repayment options.
Lil Yachty
Against his mother's wishes, Lil Yachty dropped out of Alabama State University in the fall of 2015, only two months after enrolling, to focus on his music career. During an interview with WiLD 94.1, Lil Yachty admitted that he never wanted to attend college and credits his boredom in college for leading him to rap and taking his music seriously. One year after dropping out, he would be named a 2016 XXL Freshman.
Editorial credit: Jamie Lamor Thompson / Shutterstock.com
During his interview with WiLD 94.1, he also stated that he felt there was "nothing wrong with going to college," but it was not for him.
Two years after dropping out, Yachty pledged to pay tuition for some of his fans via his Twitter account.
Dee-1
New Orleans native Dee-1 graduated from Lousiana State University (LSU) in 2008. Although rapping was his passion, Dee-1 would go on to teach middle school math in Baton Rouge after graduation. However, with several mixtapes released and a growing fanbase, the rapper would forego going back to being a teacher after two years in the field to focus on his music career full time.
Using a percentage of his label signing advance to pay off his student loans, Dee-1 released his single "Sallie Mae Back" in 2016. The song, written as a celebration for paying off his student loans, would go viral and bring national attention to the rapper.
And no sir and I don't drive a Maybach
But guess what I did?
I finished paying Sallie Mae back Mae back
Lyrics: "Sallie Mae Back"
Artist: Dee-1
He went on to team up with Sallie Mae to set up the Bridging the Dream Scholarship and Campus Tour.
Whether you have private or federal student loans, the bad news is that most people are on the hook for 10-30 years to pay off their debt in full. The good news is that although most of us won't be getting rid of Sallie Mae with one check, strategizing on how to pay down student loan debt is helpful with stress and budgeting. You can also check out these tools to help estimate your payoff plan.
How are you handling your student loan debt?
Thumbnail photo: J Cole | Editorial credit: Sterling Munksgard / Shutterstock.com